all images © PAINTER8 Arts Society
and their respective artists

When: Sept 26, 2019 - Jan 11, 2020
Where: Galerie Cité, 8627 Rue Marie-Anne Gaboury (91 St), Edmonton, Alberta T6C 3N1

Save the date!
Opening Reception: Sept 26, 2019 at 7pm - 9pm
Artists in attendance
Catalogue available at reception.

PAINTER8 presents Invisible.
Visual artists from across Canada exhibiting are: Craig Talbot (Cardston, AB), Tim Rechner (Edmonton), Chrissy Cheung (Vancouver), Tom Cummins (Vancouver), Beth Pederson (Edmonton), Rafael Sottolichio (Montreal), Suzanne Hatt (Montreal), guest artist: Kai Chan (Toronto).

PAINTER8's exhibition, INVISIBLE, seeks to provoke dialogue on the topic of mental illness and challenge the stigma surrounding it. Inspiration behind INVISIBLE stems from the artists' personal experiences, struggles and victories with mental illness. The artists have also engaged with their local community to collect their stories and spoken to mental health professionals to gain further insight on this subject. Mental illness is often INVISIBLE.

Galerie Cité is open everyday to the public.
Mon-Fri 7am -9pm, Sat 8am -9pm, Sun 9am -5pm

Friendly reminder:
Artwork is available for purchase onsite.
Please RSVP by eventbrite. click here. or RSVP by facebook click here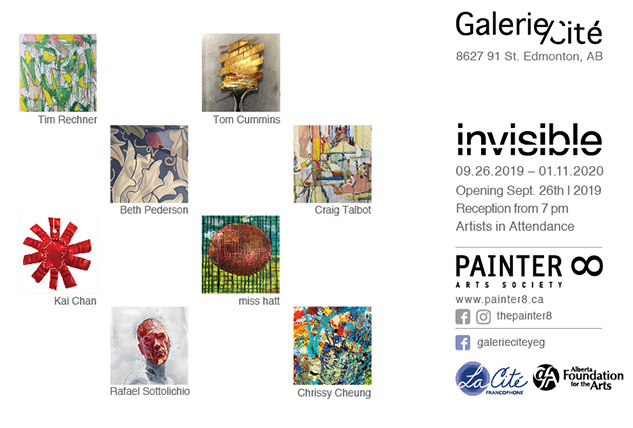 To keep up with upcoming exhibition updates, please follow us on PAINTER8 Facebook page or instagram
---